Public Relation
1.-3.07.2010: The Three Country Meeting DGPF - OVG - SGPBF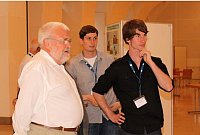 Walter Gläßer, Christian Götze and Michael Denk at the Three Country Meeting DGPF - OVG - SGPBF
In the session of the working group "Hyperspectral remote sensing" of the Three Country Meeting in Vienna various research fields were presented. With five lectures and three posters the working group worked successfully. In addition to many scientific applications the organization of campaigns at DLR and the new and further development of an imaging spectrometer were also reported.
In the part of application of hyperspectral data, the advantages of high spectral resolution have been used for a variety of problems. Christian Götze developed a method for parameterisation and separation of heavy metal stress in plants from ground truth to HyMap-data. A standardized pot experiment and spectrometric measurements provided the basis for the elaboration of the method.
In the poster session, the detection of gypsum minerals on a HyMap data by means of field data was presented. The spectral feature fitting method proved suitable.
In a round-robin test András Jung compared the spectral properties of more than 20 spectrometers from different universities and research institutions. The results showed that uniform quality standards and exact details of the measurements are of high importance.
---
---